I've been getting a lot of new followers over the last couple of weeks and I've felt terrible about not posting anything, but my weekends have been tied up with things, some awesome, some just exhausting. One awesome thing was a new fridge. I LOVE IT. It's massive and clean and it doesn't have a split down the middle that causes food to fall down and smash my toes!
The folks over at The Hob have managed to shake me out of my not-making-food coma by offering up a massive prize packet for getting in the kitchen and baking like a Mellark. I submitted this as an entry, but decided to retract it when I read that they wanted Hunger Games decorated stuff, not necessarily food from The Hunger Games. I just had to scratch this itch of mine, though. It's been bugging me ever since the first time I read The Hunger Games
 and so I've made Mr. Mellark's cookies.
The baker sits awkwardly on the edge of one of the plush chairs. He's a big, broad-shouldered man with burn scars from years at the ovens. He must have just said good-bye to his son.

He pulls a white paper package from his jacket pocket and holds it out to me. I open it and find cookies. These are a luxury we can never afford.
I was hoping I missed some description of the cookies, but found none and so unfortunately I have no idea what kind of cookies Mr. Mellark saw fit to give Katniss because SHE NEVER EATS THEM!!!!!!!
Seriously, I about cried when Mr. Mellark came to give her cookies. That sweet, sweet man! Has Katniss even eaten a cookie before? What delight she'd experience when she finally enjoys his gift.
And then in true Katniss fashion, she throws them out the train window.
A kind Peeta Mellark is far more dangerous to me than an unkind one. Kind people have a way of working their way inside me and rooting there. And I can't let Peeta do this. Not where we're going. So I decide, from this moment on, to have as little as possible to do with the baker's son.

When I get back to my room, the train is pausing at a platform to refuel. I quickly open the window, toss the cookies Peeta's father gave me out of the train, and slam the glass shut. No more. No more of either of them.
AAAAAAAAAHHHHHHHHH!
I get it, girl. You're mad. You're cynical. You want nothing to do with the Mellarks. BUT YOU THREW AWAY HIS COOKIES. *sobbing noises*
Anywayyy, rant over and on to the cookies.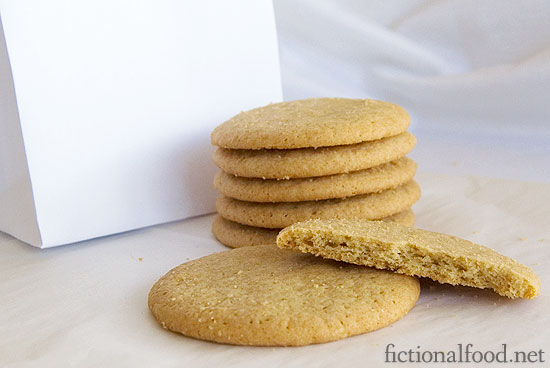 I went for plain ass cookies because I couldn't picture even a merchant making extremely decadent, frivolous treats when people are starving all around them. In contrast, cookies in District 1 probably look like they found Martha Stewart hiding in a bunker and have been keeping her a secret all this time. Why else would they be specializing in luxury?
I used this recipe and to add more District 12ishness I substituted 1 cup of flour with whole wheat flour.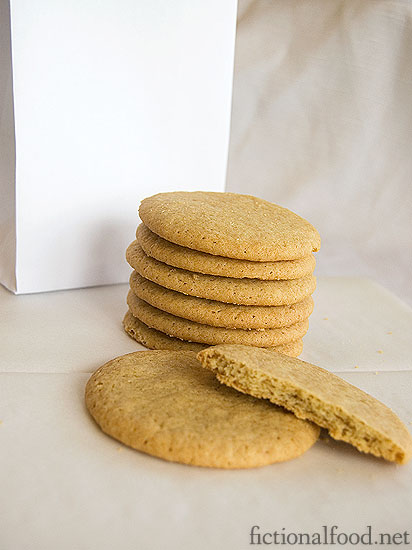 This is a great example of me not paying attention to where my camera is focused. At least you can see the awesome white paper bag I made. I thought about going out and buying one, but then I came to my senses and remembered that me going to a store for a very specific item almost never, EVER works out. To save myself the frustration and gas, I went to YouTube and learned how to make my own paper bag. *flex*
And yes, I realize this wouldn't fit in anyone's jacket pocket, but give me a break here, will you?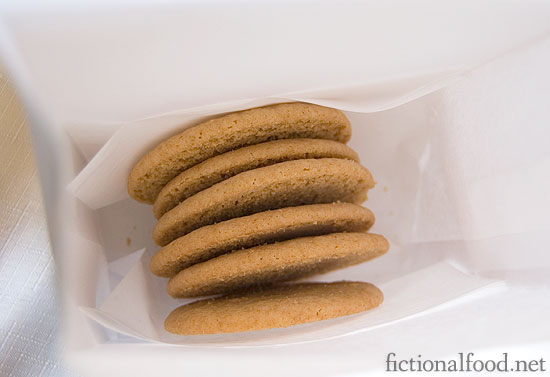 If you're wondering what the point of this picture is, it's to show you what Katniss would have seen when she looked in the bag. If she'd eaten them, she'd have tasted a nice, mild sugar cookie with a light wheat taste. They're plain, but my kids still loved them and ate them.
Ingredients
1 cup butter, softened
2 cups sugar
3 large eggs
1 teaspoon vanilla extract
2 1/2 cups all-purpose flour
1 cup whole wheat flour
1 teaspoon baking soda
1/2 teaspoon salt
Instructions
Beat butter until creamy and then gradually add the sugar. Add the eggs one at a time, mixing well after each egg. Add vanilla extract and mix well.
Combine both types of flour, baking soda, and salt. Gradually add flour mixture to butter mixture, mixing until well blended after each addition.
Divide dough in half and wrap each portion in plastic wrap. Chill for 1 hour.
Roll a half to 1/4-inch thickness on a floured surface. Cut out cookies with a 2 1/2-inch round cutter, and place 1 inch apart on parchment paper-lined baking sheets.
Bake at 350° for 10 to 12 minutes or until edges begin to brown. Let the cookies cool on the baking sheet for 5 minutes. Remove to wire racks to cool. Repeat procedure with remaining dough.