It's Sunday and The Hunger Games is estimated to have smashed through box office records to have landed into the 5th spot of the biggest opening weekends of all time at $155 million domestically. Needless to say, after having been such a huge part of the fandom for almost a year, I feel a sense of pride that it's been so widely recognized. I think a lot of us fansite admins had that little whisper in the back of our heads saying, "What if it bombs? What if Catching Fire is never made?"
I think we can rest easy now.
The 3rd Annual Edible Book Contest at the University of Hawaii is coming up next week and while brainstorming for my entry (last year I did a Hunger Games cake) I thought up a rather simple, yet creepy cake inspired by the added scene in The Hunger Games movie with President Snow and Head Gamemaker Seneca Crane. But then I realized the flaw in this idea as an entry. It was a movie cake, not a book cake. And yet I didn't want to scrap the idea.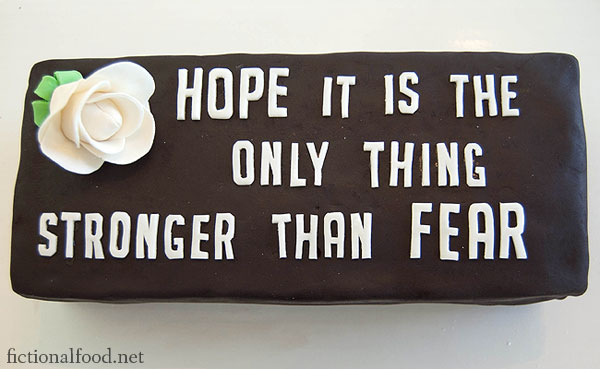 If you're wondering how I cut the letters out, I printed them on a piece of paper, cut them out, laid them on fondant, then used an X-Acto knife to cut them out. It took me roughly three hours, so I have a sore back right now.

And as you can see, I still suck at making smooth fondant cakes. Sigh.
I've never done a gum paste flower before, but since I already had the flower making kit, I just went online to Wilton's site and looked up how to do it. I'm quite happy with my first gum paste rose! Here's a closer look:
But hey, what's a good Hunger Games post without some book thrown in?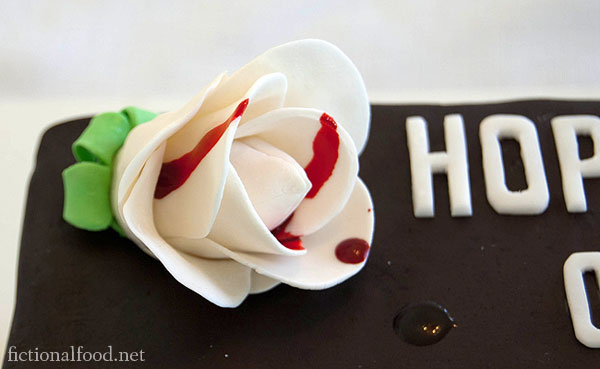 Awww yeah! Isn't that just so delightfully creeptastic? If you're not sure what this means, it's because Finnick Odair reveals that President Snow dabs his lips because of bloody sores he has due to drinking poison to throw off his own poisoners! Katniss describes him as smelling of blood and roses.
Also, I started up a Fictional Food Tumblr, so be sure to follow it!