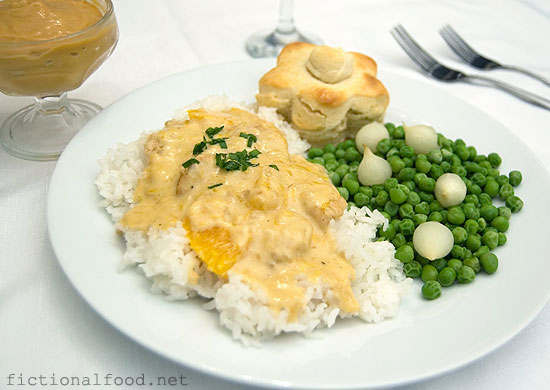 "Cinna invites me to sit on one of the couches and takes his place across from me. He presses a button on the side of the table. The top splits and from below rises a second tabletop that holds our lunch. Chicken and chunks of oranges cooked in a creamy sauce laid on a bed of pearly white grain, tiny green peas and onions, rolls shaped like flowers, and for dessert, a pudding the color of honey.

I try to imagine assembling this meal myself back home. … Days of hunting and gathering for this one meal and even then it would be a poor substitution for the Capitol version. What it must be like, I wonder, to live in a world where food appears at the press of a button?"
What I remember most about this scene was that this was what grabbed me about Cinna. When he knew what Katniss was thinking about that meal and commented about how despicable she must find them, it was like a light bulb going off in my head. This guy really understood her. He was on her side. I loved him from that point on.
I have two people to thank for the motivation for this meal, one being someone that I don't know at all. The first time I was a guest on Picktainment's Hunger Games Fireside Chat, someone posting on Twitter requested I do the chicken and orange dish that Cinna and Katniss have for lunch the first day they meet. I'd completely forgotten about that food scene and was very grateful for the suggestion.
I eventually forgot about it since I have ten billion things to do, but one day last week my cousin Jenn reminded me of it and sent me the link to this recipe on All Recipes that she said she wanted to try. This little mention was a great inspiration for me to finally get this done.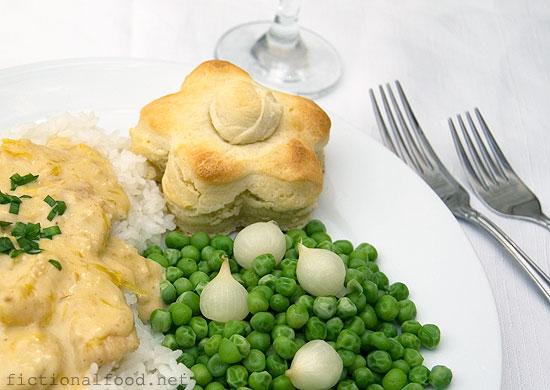 I practiced making that damn flower shaped roll for days because it kept turning out rather awful looking. I would definitely not land a summer job at Mellark's Bakery. I had been trying and trying with some frozen Crescent roll dough, but that kept coming out looking like blobs, probably because you're not supposed to freeze the dough. Oops. I bought a fresh one today and experimented with three different sized flower cutters. Eventually the one I'd thought was way too big was the one I needed.
I bought a bag of frozen peas and a bag of pearl onions, not realizing that peas and pearl onions are actually an item in the frozen section. That would have saved me 10 minutes of frustration trying to peel itty bitty onions. I boiled them in butter and water. The pudding was already made and I just spooned it into a pudding dish passed down to me from my grandma.
I ended up adapting the AllRecipes recipe so much that I think I can actually call this recipe my own.
Chicken with Creamy Orange Sauce
Serves 4
Ingredients:
2 chicken breasts, cut into 1″ cubes
4 tbsp flour
2 tbsp butter
2 tbsp unsweetened frozen orange juice concentrate
3/4 cup lowfat milk
1/2 cup heavy cream
chunks from 1 orange
salt
pepper
chives (optional)
Instructions:
Season the chicken cubes with salt and pepper. Toss with flour until well coated.
Melt the butter in a large skillet on medium heat. Add the chicken pieces one at a time and cook in the butter until golden brown, turning after a few minutes on each side.
Add the milk, cream, and orange juice concentrate. Stir until the concentrate is melted and all the ingredients are combined. Lower heat.
Cut the ends off the orange, then slice the sides off, making sure to cut off all the rind. Cut the orange flesh out from between the membranes and then cut those orange slices in half to get orange chunks. If you don't know what the heck I'm talking about, watch this video on How to Segment an Orange.
Add the orange chunks to the skillet and stir until coated in the sauce. Let the orange chunks warm up, about 5 minutes.
Remove oranges and chicken from the skillet and season the sauce to taste with more salt and pepper. Let the sauce thicken to your desired consistency.
Serve chicken and oranges on top of white rice, then pour the sauce on top. Top with minced chives.
A few tips about the oranges, they do break down if you leave them to cook too long, so be sure to watch, otherwise you'll end up with tons of broken up pieces of orange in your sauce and that doesn't look that great. Also, the amount of sauce I ended up with wasn't nearly enough, so you might try doubling it or increasing it by 1/2. I used 3 breasts and it was way too much meat, which is why the recipe says to use 2.
I wasn't expecting to like this because to me fruit and cream and meat just sounds strange, but I actually really liked it. The thickened sauce with oranges on top of the rice was the best part, with the chicken being a secondary factor for me. Mr. Pikko said it tasted good and I can always rely on him for an honest opinion.
I feel disgustingly bloated, as I was eating all my flower roll mistakes and when I sat down to eat after taking the photos, I realized I wasn't very hungry. Unfortunately, the cream sauce was so good I sat there and ate all the chicken and rice. Horrible, horrible habit… I had no room for the roll, peas, and pudding. On the bright side though, this wasn't another horror like the lamb stew!





(24 votes, average: 4.21 out of 5)


Loading…