A few years back, I finally watched Pixar's Ratatouille, well after the DVD release. I was surprised at how much I enjoyed a movie about rats, though maybe I shouldn't be seeing as how I loved Secret of Nimh as a kid. The kids loved it, so of course I ended up seeing it about 30 times in two weeks, but with a topic so close to my heart, I didn't mind as much. Especially the final cooking scene with Remy and Colette making his famous dish ratatouille.
OMG, tears. Seriously. But anyway, a couple years ago I went searching and searching for the recipe and eventually found this one published by the New York Times called Confit Byaldi. According to Wikipedia, this fancy version of traditional ratatouille was first created by French chef Michel Guérard. It involves cooking very thinly sliced veggies over a bell pepper and tomato mixture called piperade and then baking it in the oven for a WHOPPING 2 1/2 HOURS.
With that in mind, do not do what I did and start baking your veggies at 9:30 PM.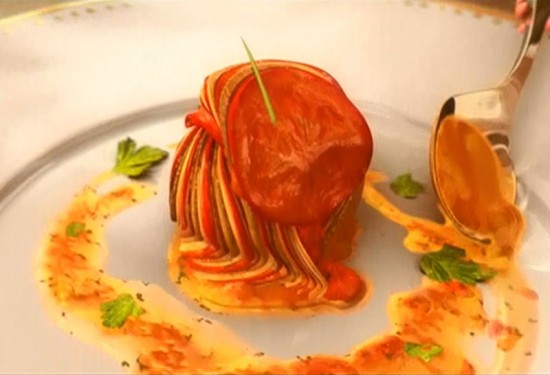 Here's a screenshot of the final dish, which quite frankly, looks absolutely amazing. I'd scoured the internet and YouTube trying to find a large photo of the dish but came up empty handed, so I ended up screencapping my own and it helped so much in figuring out what the sauce is. I'd thought olive oil and balsamic vinagrette looked wrong, but as you can see, it totally looks it in this photo. The tomato on top is even dripping some excess piperade if you can believe it. The details they put into this my goodness!
My very first recommendation before you attempt this is to buy a mandoline
. I am not joking. Do not do this without one. You'll go insane with the thin slicing. The one linked is the exact one I have and it is amazing. The veggies even make the exact sound they make in the clip when Colette is slicing the summer squash.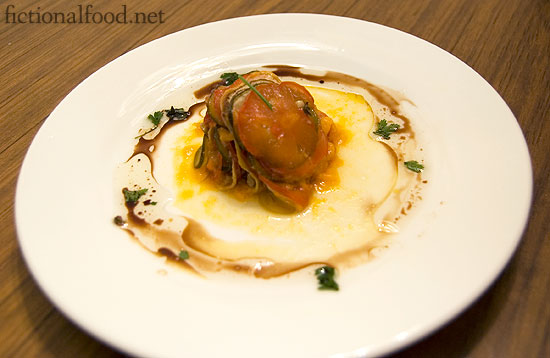 This is my first plate of ratatouille, which had several mistakes I noticed right off the bat. For one, leaving the veggies with 1/4 showing is too much. You need to layer them much closer together so barely a lip is showing. You won't be able to bunch them up for the bottom very nicely.
Two, while baking this for two hours may leave you with an amazing burst of flavor in your mouth (inciting that involuntary "MMMmmmMMmm" you see in the film), it's too long to work well for presentation.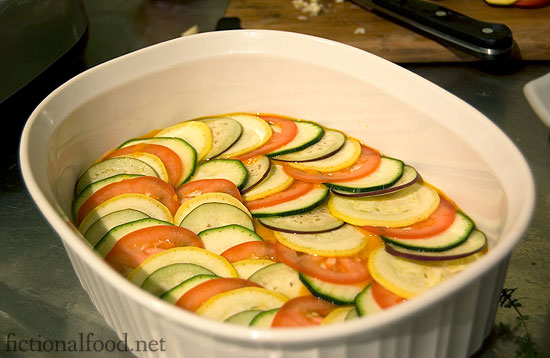 See? Too much space. I needed to layer them much closer together.
A couple things were different in the movie than in the recipe. For instance, Remy layers what looks like sauce onto the bottom of the pan before putting the vegetables down. I took the piperade and pureed it, which gave me a rather orange sauce, but still tasted great. I covered it in a piece of parchment paper that I traced with the dish first.
This is my second attempt, which involved stacking the veggies more on top of each other and cooked for half an hour less than the first batch. Sadly, while it helped presentation, it ultimately killed the superb taste of the first batch.
In the end, I think the taste matters more and so layering the veggies out more and cooking it for the full two hours is the way to go if you want to serve up some truly delicious ratatouille.
Note that my recipe differs slightly from the original because I don't find it necessary to buy three different colors of bell peppers. I should also mention that this dish isn't realistic for the movie, unless they're saying Anton Ego was sitting outside waiting for his dish for four hours, which is about how long you'll need to cook this.
Ingredients
1 red pepper sliced in half, seeds and ribs removed
1/2 yellow or orange pepper, seeds and ribs removed
2 tablespoons extra virgin olive oil
1 teaspoon minced garlic
1/2 cup finely diced yellow onion
3 tomatoes (about 12 ounces total weight), peeled, seeded, and finely diced, juices reserved
2 sprigs thyme
2 sprigs flat-leaf parsley
1/2 a bay leaf
Kosher salt
1 zucchini
1 summer squash
1 eggplant
3 roma tomatoes
1/2 teaspoon minced garlic
2 teaspoons olive oil
1/8 teaspoon thyme leaves
Kosher salt
freshly ground black pepper
1 tablespoon extra virgin olive oil
1 teaspoon balsamic vinegar
Assorted fresh herbs (thyme flowers, chervil, thyme)
Kosher salt and freshly ground black pepper
Instructions
Heat oven to 450 degrees. Place pepper halves on a foil-lined sheet, cut side down. Roast until skin loosens, about 15 minutes. Remove from heat and let rest until cool enough to handle. Peel and chop finely. This makes the piperade.
Combine oil, garlic, and onion in medium skillet over low heat until very soft but not browned, about 8 minutes. Add tomatoes, their juices, thyme, parsley, and bay leaf. Simmer over low heat until very soft and very little liquid remains, about 10 minutes, do not brown; add peppers and simmer to soften them. Season to taste with salt, and discard herbs.
Puree in a blender and spread on bottom of baking pan.
Heat oven to 275 degrees. Using a mandoline, thinly slice the zucchini, yellow squash, eggplant, and tomatoes. Down center of the pan, arrange a strip of alternating slices of vegetables over piperade, overlapping so that 1/4 inch of each slice is exposed. Repeat until pan is filled; all vegetables may not be needed.
Mix garlic, oil, and thyme leaves in bowl and season with salt and pepper to taste. Sprinkle over vegetables. Cover with parchment paper. Bake until vegetables are tender when tested with a paring knife, about 2 hours. Uncover and bake for 30 minutes more.
For vinaigrette, combine 1 tbsp piperade, oil, vinegar, herbs, and salt and pepper to taste in a bowl. Drizzle vinaigrette around plate. Serve hot.