I turned 33 yesterday and one thing that I've come to remember about my birthdays is that it's always right around the Edible Book Contest held on the University of Hawaii campus. Or rather, it's on the same day as my birthday because they always try to host it on April 1, but this year the date fell on a Sunday, which meant the contest moved to today!
The first year they held the contest, I did a giant Twilight SPAM Musubi. Last year, I made that giant Hunger Games cake a lot of you have probably seen. This year, I thought maybe I could do Catching Fire, but with the movie being so huge right now, I wanted to still pay homage to the favorite of my series. In the end, I decided to go with all three and make a 3-tier cake.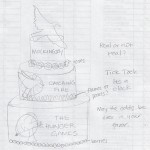 I started by sketching out a design. I originally wanted to put a famous phrase from each book on the back of each tier, but that got lost when I realized my cakes weren't all that huge. I planned to buy unfrosted cakes from Safeway to save time, but when I found out it would cost me something around 45 bucks to do it that way, I decided I could suck it up and bake it myself.
I used 3 box cake mixes, Classic Yellow Duncan Hines, baking two layers each of 10″, 8″, and 6″. This took like 4 hours since I only have one pan of each size. I had to make a double batch of buttercream frosting to layer the cakes. It's a good thing I doubled it because one batch wouldn't have been enough. I started at 8 PM Sunday and finished around 11 AM Monday, with a 2 hour nap and a school assembly thrown into the middle. Definitely not as bad as last year's 14 hours, but I'm still exhausted as I type this.
Here's the full cake at the library: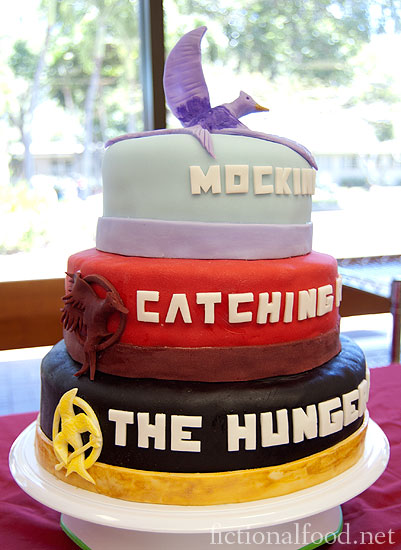 You can't see the whole thing from one side, so here it is turned a little. You can see the mockingjay's beak and eye pretty good from this angle!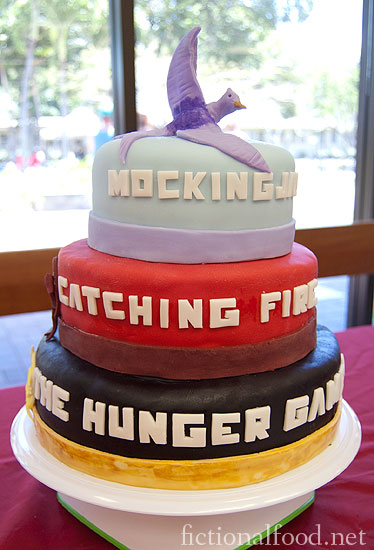 Here's the Hunger Games tier. The golden mockingjay isn't painted this time. I decided to go for yellow pearl dust and that turned out really pretty. I'm a lot happier with the lines on the tail, which I made with the dull side of an X-acto blade.
Here's the Catching Fire tier, which started to crack since I was mixing the fondant so much. I've found that the X-acto blade (without the handle) is a really great tool for cutting feathers and especially letters.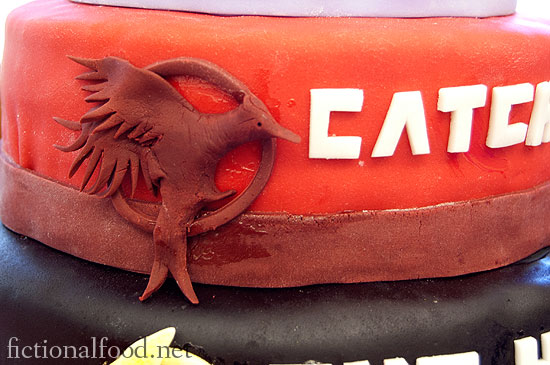 Here's the Mockingjay tier, though I don't like the painted body. I wish I hadn't tried that.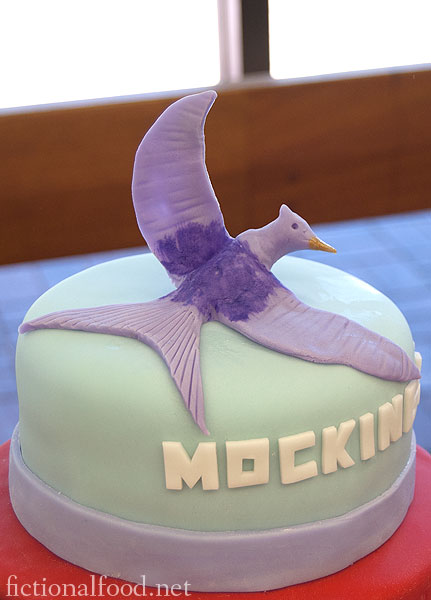 Here's the side a little closer. I can't stand looking at the cracks!
The far side of the cake: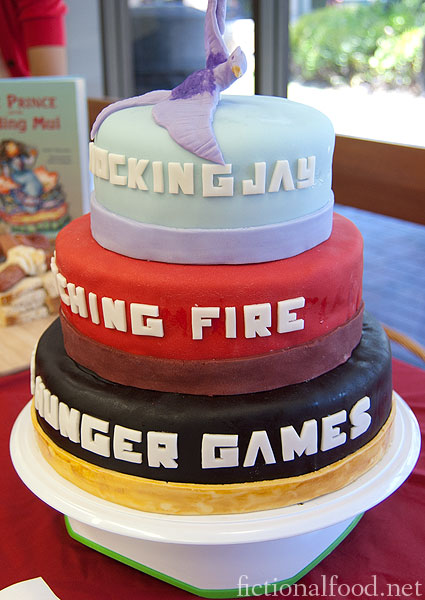 Me with the cake!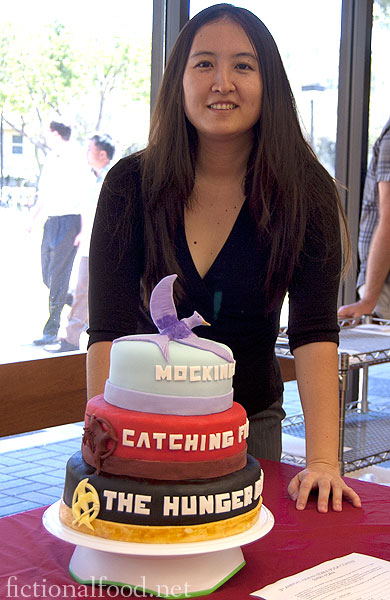 View from below!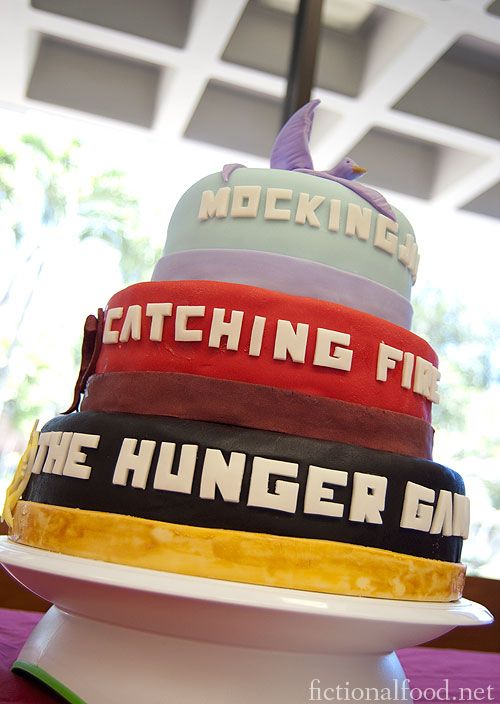 After the contest ends, you're supposed to eat your creations, so I took a knife and sliced it open and lo and behold, it looked pretty nice inside! I was proud. All those hours of stressing over the frosting paid off!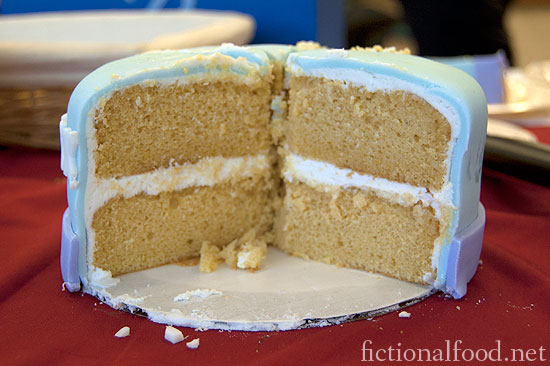 Another shot from the side. Can you tell I'm proud of my layers? If you want the same, buy one of these. You should also definitely buy one of these. I bought it for five bucks at Wal-Mart last night and it's A GIFT FROM THE HEAVENS.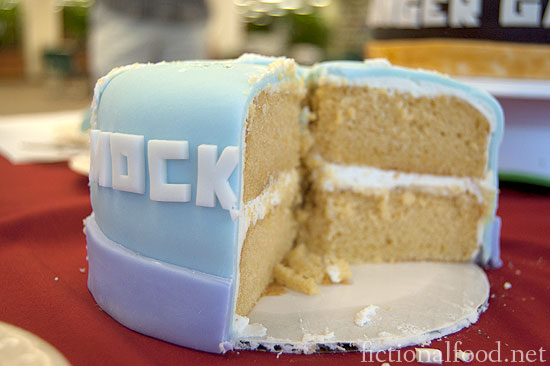 About to get eaten!