Last year, when the Official Game of Thrones cookbook came out, I made the lemon cakes. This year, with Season 3 coming up on March 31, I tried the rabbit stew.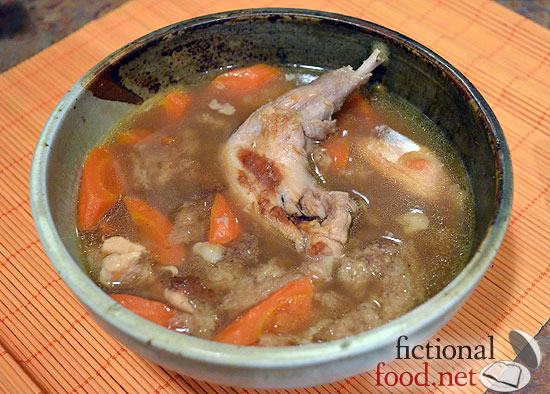 Now, since my husband raises rabbits for meat, I've got a whole lot of rabbit at my disposal for cooking. I've stewed quite a few rabbits so far, making various types of hasenpfeffer based on recipes I've found online but honestly, they were just barely edible and after we ate it for dinner, usually no one would want the leftovers. It was a serious waste of meat.
The cookbook features two types of stewed rabbit, the 16th Century version and the Modern version. Because I had no Nicoise olives, I went with the 16th Century recipe and even then, I was missing a couple of things and had to substitute or omit.
Even with substitutions though, it tasted very yummy! I'd definitely make it again as it was a delicious rabbit recipe. I don't know if you could make it while on your way to join the Night's Watch, but it was tasty anyway.
Game of Thrones Rabbit Stew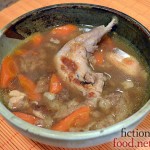 By Greasy Sae
Published: March 28, 2013
Yield:

6 Servings

Cook:

2 hrs 0 min
Adapted from a recipe in the Official Game of Thrones Cookbook.
Ingredients
Instructions
Heat half the butter in a skillet and pan fry the onion until translucent, then transfer to a pot big enough to boil the rabbit carcass.
Cut all the usable meat from the rabbit into bite size pieces and leave the legs whole. If it's an older rabbit, just leave the front legs intact. Add the bones to the pot and cover with water. Bring to a boil and simmer for two hours.
Strain the broth to remove the onions and bones. Break the bread into small pieces and add to the broth along with the spices, salt to taste, and the vinegar.
Add the carrots. In the skillet, melt the remaining butter and brown the rabbit meat and legs. Deglaze the pan with some of the broth and add it all to the stew pot, simmering until the carrots are soft.