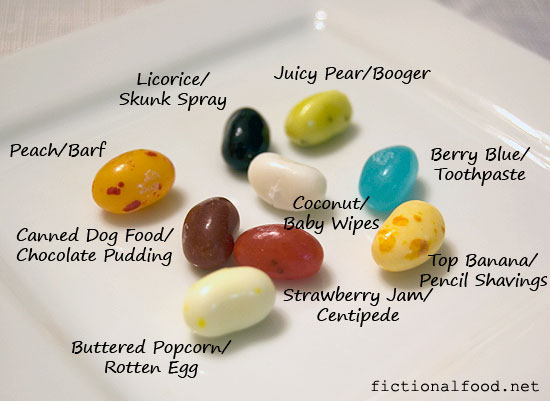 I first read Harry Potter and the Sorcerer's Stone
when I was a freshman in college. I was walking around the bookstore between classes looking for something to read when I saw a book display of some children's book that sounded interesting. I bought it and read it as I walked to my Astronomy class and needless to say, I didn't hear a word of what went on in Astronomy that day. I finished the book within a few hours.
As with everyone else who has experienced that first love with the world of Harry Potter, I was in love with the concept of Bertie Bott's Every Flavor Beans.
"You want to be careful with those. When they say every flavor, they mean every flavor – you know you get all the ordinary ones like chocolate and peppermint and marmalade, but then you can get spinach and liver and tripe. George reckons he had a bogey-flavoured one once."
(the picture above is missing Caramel Corn/Moldy Cheese)
When Bertie Bott's first came out officially, they were made by Jelly Belly, which in my mind is the best jellybean company there is. Sadly, I guess somewhere along the way they parted business ways with Warner Bros. and now they're made by some other company. The reviews on Amazon were pretty horrible, so I ended up buying Jelly Belly's "generic" brand of beans of the exact same concept called Bean Boozled
. I figure that they used to make them officially anyway, so it's like trying the same one under a different name.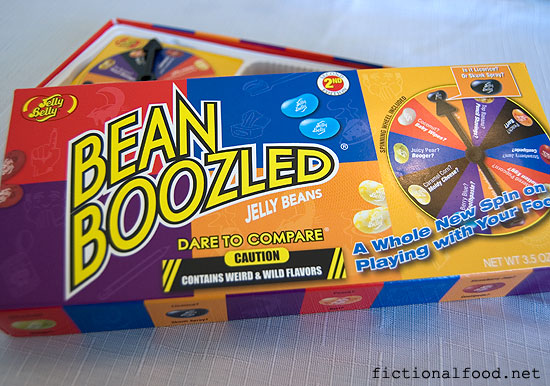 This is the Second Edition. I'm not sure what flavors the first had, but this box came with a little spinner so that you could turn eating these into a little game.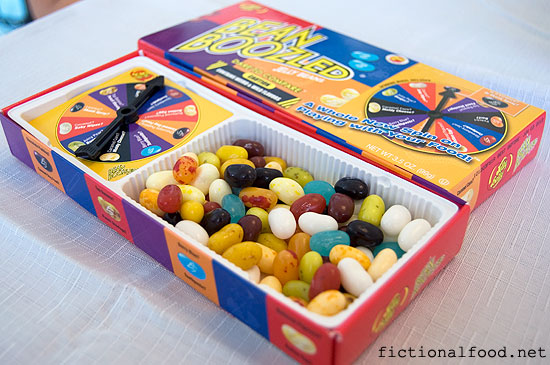 Although my daughter has never read, been read, or seen the movies (I have her banned from seeing them until we read the books together), she love LOVES Jelly Belly beans. When she saw this box she flipped out and demanded we play this after Mother's Day lunch yesterday. She went first and the spinner landed on Caramel Corn/Moldy Cheese and she got moldy cheese. The look on her face was priceless.
My brother got centipede, which he said tasted precisely like eating a bug. My mother got booger, which she grossly said tasted fine. I got toothpaste, which really wasn't so bad since it was like having a mint bean. My poor mother in law got blessed with a canned dog food bean and watching her make a face and spit it out was priceless. We all had so much fun and I am totally buying another one of these if I end up throwing a Harry Potter party in July.
For those who have the stores nearby, I bought this at Price Busters for 5 bucks. Online it will be a much steeper price at around $10.





(6 votes, average: 4.17 out of 5)


Loading…
Shop Harry Potter:
SAVE on select Harry Potter collectibles when you buy with Harry Potter and the Half-Blood Prince Blu-ray or DVD at WBShop.com!
The official shop of all things Harry Potter PLUS Free Shipping on orders of $60 at – WBshop.com!