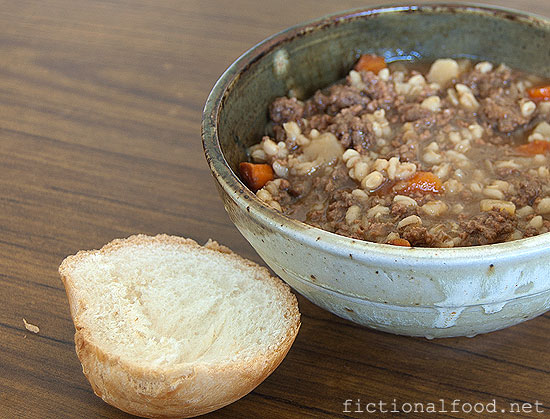 "In the Bottom there were pot-shops along the alleys where huge tubs of stew had been simmering for years, and you could trade half your bird for a heel of yesterday's bread and a "bowl o' brown," and they'd even stick the other half in the fire and crisp it up for you, so long as you plucked the feathers yourself. Arya would have given anything for a cup of milk and a lemon cake, but the brown wasn't so bad. It usually had barley in it, and chunks of carrot and onion and turnip, and sometimes even apple, with a film of grease swimming on top. Mostly she tried not to think about the meat. Once she had gotten a piece of fish."

Season 1 of HBO's series Game of Thrones ended last night and so we had a little party to watch the end with our friends. They brought over some really delicious stuffed mushrooms and I made a pot of "bowl o' brown", which Arya eats while surviving in Flea Bottom on her own after Eddard is arrested. I didn't have any recipe to follow, so I just threw stuff into a pot and hoped for the best. What came out was actually quite yummy.
I went with what George RR Martin described, though I substituted potatoes for turnips and didn't add apples or fish. I also didn't cook it for years. I mean really, who has that kind of time?
Bowl o' Brown Recipe
Serves 6-8
Ingredients:
2 lbs ground beef
2 packets Lipton Onion Soup
2 cups water
3 cans beef broth
5-6 medium carrots, peeled and chopped
4-5 medium potatoes, cubed small
1 cup Pearl Barley
salt and pepper to taste
Instructions:
Brown the ground beef in a pot.
Add onion soup to slow cooker and add two cups of water. Stir to dissolve.
Add ground beef, carrots, and cans of beef broth. Cook on high setting for 3-5 hours.
One hour before serving, add potatoes and barley, adding more water as needed, since the barley absorbs a lot.
Season with salt and pepper to taste.
Serve with bread, preferably a heel from yesterday.
No doubt the pot-shops wouldn't put that much meat, but I was having company over so I had to provide more than Flea Bottom's merchants would have. Hamburger was the logical choice because it looks kinda gross and can pass as a "mystery meat".
You may not even need to season it as the beef broth adds a lot of taste. The barley was truly delicious with a soft texture and a slight crunch when you bit through the outer skin, enough where I think I'll keep some in my pantry regularly to put into soups and stews. The kids weren't home when I made this, so I'll feed them the leftovers and see what they think. Dipping the bread in was nice!
The picture was taken after I'd left it cooking on low all night so that I didn't need to find room in my Jenga fridge, so it wasn't as soupy, but it did have a nice light film of grease the night before when we ate it for dinner!
Our dog regularly catches doves, but I wasn't about to save one and cook it for a picture. There is a limit to how far I'll go for realism, hahaha!





(15 votes, average: 4.40 out of 5)


Loading…