I lunge for him, but I'm caught and thrust back into another room, and a glass door seals between us. I pound on the glass, screaming my head off. Everyone ignores me except for some Capitol attendant who appears behind me and offers me a beverage.

I slump down on the floor, my face against the door, staring uncomprehendingly at the crystal glass in my hand. Icy cold, filled with orange juice, a straw with a frilly white collar. How wrong it looks in my bloody, filthy hand with its dirt-caked nails and scars. My mouth waters at the smell, but I place it carefully on the floor, not trusting anything so clean and pretty.

Katniss, The Hunger Games, page 347
This is the last specific mention of food in the first book and although there technically is no recipe, I've always been just as drawn to this scene as I have been to other food-related mentions. I find it fascinating how Suzanne Collins could turn something so simple as a glass of orange juice into such a powerful symbol of the Capitol after Katniss has exited the Games. And a frilly straw? I had to give this a try!
I had some difficulty finding a white straw for this, going to two markets and a drugstore before going to Twitter and Facebook. With no luck there, I was sitting in my car ready to try some place else, when I looked down at the drink holder and saw the leftover juice cup from my daughter's lemonade at Spaghetti Factory last night when I took them to see the Muppets. The straw was white!
When I got home, one of my Facebook friends told me he was eating lunch at Subway and staring at a white straw in his drink, so if you need white straws for your Hunger Games themed party, snag a couple extra next time you eat lunch there.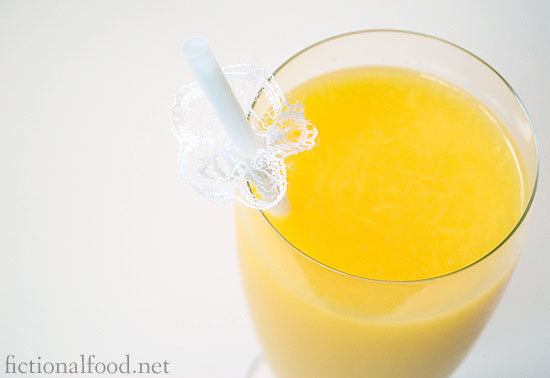 I had a hard time with lighting for this. I have always imagined Katniss in a pure white hallway for some reason, so I bought a poster board to take this with and I guess with the sun being behind the clouds today, I just wasn't going to get much natural light. You can see the frilly white collar better in this photo.
Making these was actually extremely easy. I'll show you guys a few quick tutorial photos I took while practicing on a striped straw. First, I bought lace ribbon and cut about 4 inches off. Next, I got some double stick tape and wrapped it around the bendy portion of the straw. You should check your juice glasses first to make sure the collar stays above the rim just in case.
Next, tape your piece of lace and bunch it up at the cut bottom. Don't pinch it all together in one clump as you'll need to spread it around the straw anyway.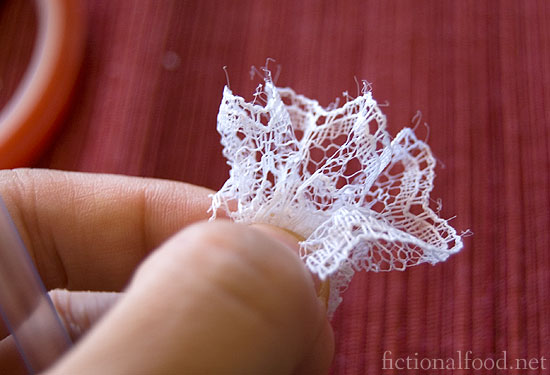 Next, simply attach the bunched up bottoms to the tape on the straw, pulling it gently around and making sure all parts of it stick to the tape. Try to turn the cut ends into each other so they blend nicely.
There you go! A frilly white collar for your straw. This took maybe 2 minutes, so you could do a whole bunch of these for a party without breaking your back on them. Serve with icy cold orange juice in crystal glasses. The crystal glasses I used are Marquis "Vintage" Iced Beverage glasses from Macy's.