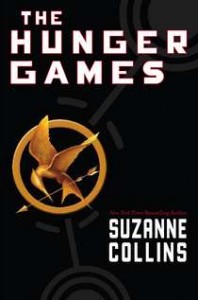 Something I've been wanting to do for a while is post blog entries that list all the foods in a particular book, which gives me a nice, concise list of foods to tackle for any given novel. When I read A Dance with Dragons
, I highlighted all the dishes (which my husband actually noticed!) on my Kindle version
and now I have a quick and easy way to go back and find all the food Dany snarfs down while sitting on her ass in Meereen.
The trouble with that is, it's not very easy to read. The highlights on my Kindle are all lumped together and is therefore very unorganized. These will be a way for me to reference back in a quick and easy way.
So without further ado, here's my hit list for the first book in The Hunger Games Trilogy
 (some of it already done). Some are meals and some are just single items. You'll be surprised at just how much food there is in this one book!
Goat cheese wrapped in basil leaves – posted April 10, 2011
Rough grain ration bread with goat milk – posted January 16, 2012
Sliced bread with goat cheese and blackberries
Wild dog soup (yeah sorry, not doing this one…)
Fish stew with greens, strawberries and bread on the side – posted November 4, 2011
Raisin nut bread, burned, with tea – posted September 25, 2011 (forgot the tea)
Mr. Mellark's cookies – posted September 21, 2011
Thick carrot soup, green salad, lamb chops with mashed potatoes, cheese and fruit, and chocolate cake
Greasy Sae's winter specialty, soup with mice meat, pig entrails, and tree bark (not doing this one either!!)
Dandelion salad with raisin nut bread
Rabbit stew with greens
Fish and katniss roots
Eggs, ham, fried potatoes, chilled fruit, rolls, orange juice, and coffee
Hot chocolate with rolls to dip
Chicken and oranges in cream sauce on rice with flower shaped rolls and peas with tiny onions; honey colored pudding – posted July 6, 2011
Goose liver and puffy bread – posted January 20, 2012
Mushroom soup, bitter greens with pea-sized tomatoes, thin sliced rare roast beef, noodles in a green sauce, cheese with sweet blue grapes
Cake with alcohol that lights on fire
Eggs, sausages, batter cakes with orange preserves, pale purple melon – posted October 3, 2011
Beef stew with hot grain
Porridge (with ration grain)
Fancy cakes with flowers
Fish shaped loaf tinted green with seaweed (District 4)
Crescent moon roll dotted with seeds (District 11) – posted August 15, 2011
Drop biscuits (ration grain) – posted January 16, 2012 (same as above)
Roast pig with apple in mouth
Fish soup
Pork chops with mashed potatoes, rolls and wine
Lamb stew with dried plums on wild rice – posted August 15, 2011
Cream and rose petal soup
Crackers and dried beef strips
Roasted rabbit – posted July 25, 2011
Roast groosling with sweet roots
Raw eggs, rabbit legs, and berries
Popped corn over a fire
Raw fish
Mint tea
Pack of dried fruit (apples and pears)
Hot broth
Berry mush
Groosling stew with roots and chives, cooked with hot rocks – posted June 12, 2012
Fresh rolls, goat cheese, apples, lamb stew on wild rice – posted September 26, 2011
Roll with goat cheese and apple slices
Goat cheese and apple tart – posted January 12, 2012
Orange juice with frilly straw – posted November 28, 2011
While I won't be doing all of these for grossness factor or simplicity (like mint tea or wild dog stew) I'll try to get as many done as I can so that people can pick and choose from a nice, wide variety of foods for parties closer to the movie!