Like any little kid, my son loves Angry Birds, so with his birthday this week, I decided to surprise him with a big batch of Angry Birds cupcakes to take with him to school. After printing out pictures and finding out that there's actually an Angry Birds Wiki, I got started. Since I didn't have any green fondant, I had to use white and mix it with green until it was the color I wanted. Unfortunately, this took FOOOOR-EVVVER and I was mixing the colors for what felt like half an hour or more. Finally though, I got my green. I used "Leafy Green" from my set of gels from Wilton
.
The nose of the pigs are slightly lighter in color, so I had to mix in some yellow with the already greened. I made 12 pigs in total: 5 regular pigs, 3 mustache pigs, 3 soldier pigs, and 1 king pig.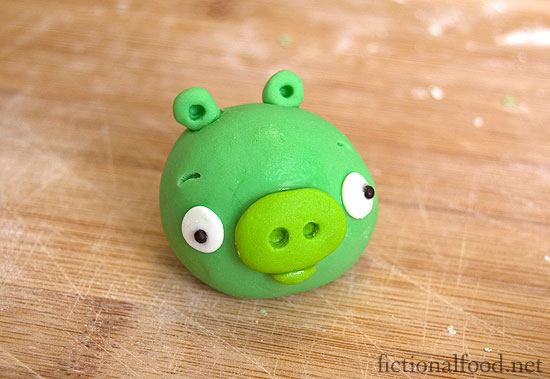 Here's the first pig I made. I used toothpicks to poke the holes and draw the eyebrows, piping gel to get everything to stick together, and a drinking straw to cut out even amounts of white fondant to flatten into eyes.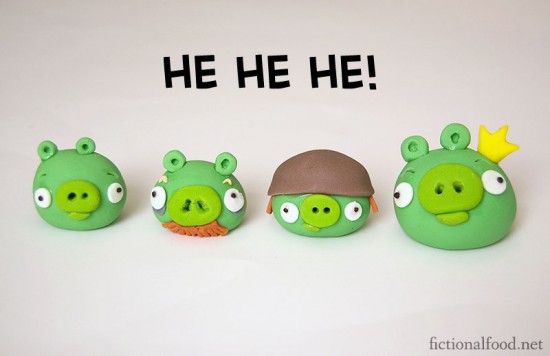 Here are all four types of pigs lined up. I used a toothpick to cut the orange mustache and then cut stiff strips of orange for the straps in soldier pig's helmet. Since I didn't do these ahead of time and only had one night to do it, I decided not to take the time to do process photos. What a good idea that was because I wouldn't have finished these.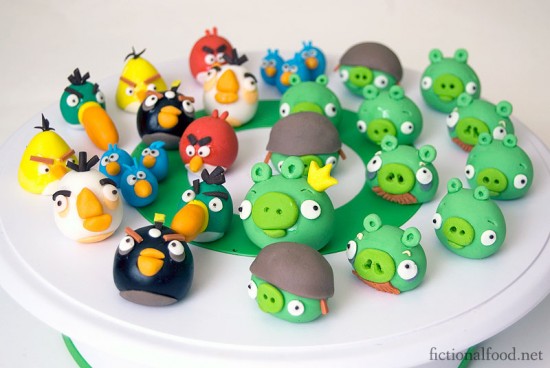 I wrapped up the last boomerang bird at around 5:50 AM. I didn't get to go to bed at all!

They look worth it though, don't they? My cupcakes fell flat sadly, probably because I randomly added pudding mix in an attempt to increase my batter amount. Luckily, frosting covers all cupcake sins.
I made cream cheese frosting, which I like because it's creamy, sweet, but doesn't contain a whole pound of sugar to taste good.
After I frosted them all, I inserted a toothpick into the big ones (not the little birds!) to hold them up.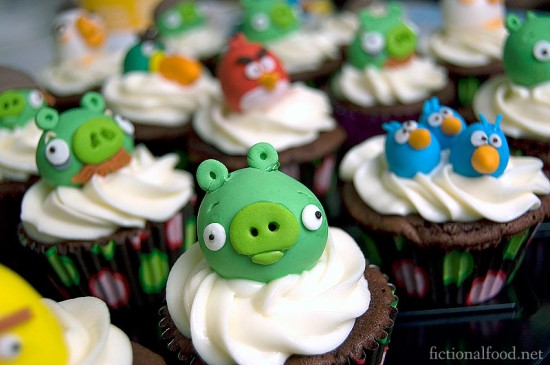 Here's another shot, this time with the yellow bird in front: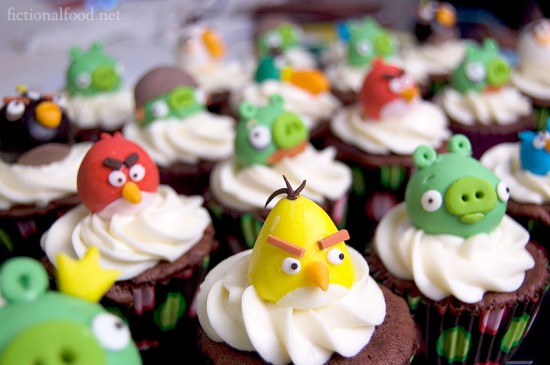 After I broke my back and nearly killed myself making these, I walked it to the school and soon found myself surrounded by kindergartners, all trying to talk over the other people in order to tell me which bird was their favorite to use.
I made two birds each of the yellow, red, black, blue, and white birds. The boomerang bird was a bit of a challenge with such a long beak, but I laid him on another bird to hold him up until he dried. I used fondant for all of it, just using piping gel to stick everything together.
Now, if you'll excuse me, I have to go end this 36 hour sleep deprivation.