In 1962, the science fiction/fantasy novel, A Wrinkle in Time, about two children and their friend traveling across time to save their father was published and in the 50 years since it has remained a favorite among new and old fans alike. It's hard to forget traveling around the universe with Meg, Calvin, and Charles Wallace and to mark the momentous occasion, a special edition of the book has just been released: A Wrinkle in Time: 50th Anniversary Commemorative Edition
.
I was invited to take part in a special blog tour they're holding for the book and decided that a book cake would make a great contribution. Unfortunately, I totally procrastinated and ended up going to bed with an unfinished cake last night, waking up at 5 in the morning to put the finishing touches on.
Usually when I'm making a cake, I watch some of the dozens of episodes of Criminal Minds on our TiVo and each episode begins and ends with a quote. Imagine my surprise when I'm just about to cut into my fondant when Agent Hotchner's voice says:
"When we were children, we used to think that when we grew up we would no longer be vulnerable. But to grow up is to accept vulnerability, to be alive is to be vulnerable."

–Madeleine L'Engle
I was in total shock! What a fitting way to get to work!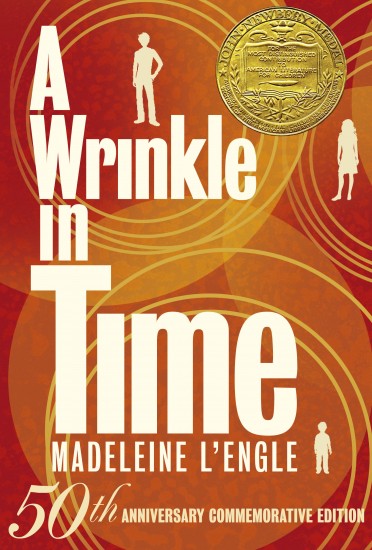 Here we have the cool new cover of the 50th Anniversary edition and then, my sad little cake: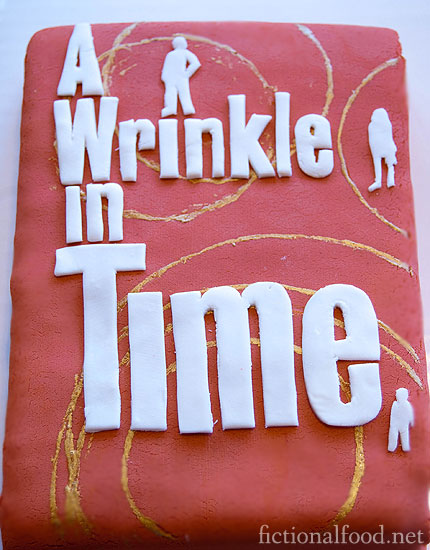 I'd decided it was best to do a cake copy of the book cover and used edible gold paint for the circles. I'd bought fondant online only to find out that I'd purchased black instead of orange by accident, so I spent 3 hours trying to mix white fondant with food color gels to get this color. Talk about work just to color frosting! In the end I worked it so much that the frosting began to crack, which made me so sad.
My sadness aside, my son loved the cake. He woke up early on his own and came to see what I was doing, delighted at my work and eager to eat my leftover cuttings. I didn't want to end up having to eat a gigantic double layer cake, so I decided that I wanted the cake to be the same size as the book, but in the end all this meant was that I had a very hard time cutting out the bottom letters for the author's name and the 50th anniversary title. Definitely another lesson learned for this year's Edible Book Contest! Last year I made a Hunger Games cake so huge that my arms almost fell off from carrying it to the library.
Be sure to stop by the Wrinkle in Time page on Facebook and then go on the rest of their 50 Years, 50 Days, 50 Blogs tour!
About the 50th Anniversary edition:
The 50th Anniversary Commemorative edition features:
 Frontispiece photo*†
Photo scrapbook with approximately 10 photos*†
Manuscript pages*†
Letter from 1963 Caldecott winner, Ezra Jack Keats*†
New introduction by Katherine Paterson, US National Ambassador for Young People's Literature  †
New afterword by Madeleine L'Engle's granddaughter Charlotte Voiklis including six never-before-seen photos †
Murry-O'Keefe family tree with new artwork †
Madeleine L'Engle's Newbery acceptance speech
* Unique to this edition                † never previously published