It's been so long since I've posted here that I almost forget how. This year was the first year that I wasn't able to enter the Edible Book Contest, which made me really sad, but with so much to do, I just didn't have the time.
One thing I did want to do though, is finally get around to posting about my Game of Thrones cake from last year. I posted about the Wool cake, but never did the photos for the King's Landing red velvet cake. I'd been studying the moving intro version of King's Landing for so long and finally gave the darned thing another shot after my insane 10-box cake fail. (I don't even know how I'd have carried that in)
In the last year, however, my memory card went bad and the shots I took of the cake were tragically lost, so all I have now is video taken at the event and one small photo.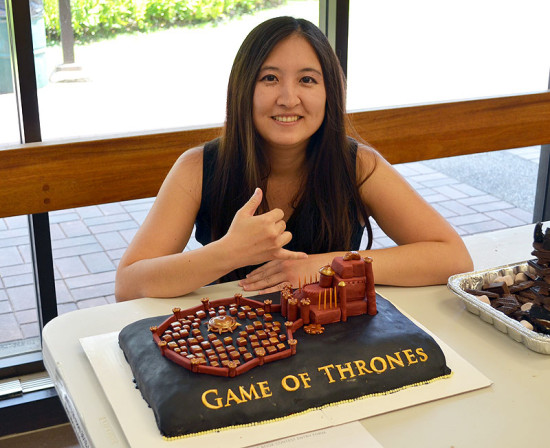 Looking back at it now, I can't stand looking at the Red Keep because it just looks so bleh. I'd run out of time doing two cakes and couldn't finish the tons of other embellishments I'd wanted to do for the Keep. Plus, there's that big empty space above "thrones" where I'd wanted to put "King's Landing," but cutting out letters like those takes for. ev. er.
Tons of amazing, professional Game of Thrones cakes have come out since last year and I know mine pales in comparison to them all, but I hope you guys enjoy looking at this one anyway.
Anyway, here's video of the cake before and after, with some added intro music for effect. I totally regret not thinking of taking better video to mimic the intro officially!

Season 4 starts tomorrow, are you ready??