My mouth has gone as dry as sawdust. I desperately find Cinna in the crowd and lock eyes with him. I imagine the words coming from his lips. "What's impressed you the most since you arrived here?" I rack my brain for something that made me happy here. Be honest, I think. Be honest.

"The lamb stew," I get out.

Caesar laughs, and vaguely I realize some of the audience has joined in.

"The one with the dried plums?" asks Caesar. I nod. "Oh, I eat it by the bucketful." He turns sideways to the audience in horror, hand on his stomach. "It doesn't show, does it?"
After the failure of my first lamb stew, I was totally scared to do this again, but with some encouraging feedback from Adam and Savanna of Picktainment's Hunger Games Fireside Chat, I had another go with a completely different recipe. This time, I used the same recipe they did, which is from Julia Child's Mastering the Art of French Cooking
. Thankfully, I already owned the book. I had to adapt it, but in the end, I thought it tasted wonderful. This is the way I'd imagined Katniss' favorite Capitol dish tasting like!
The recipe called for a shockingly large amount of vegetables, so I ended up cutting that down drastically and I'm glad I did because if I hadn't I'm pretty sure I wouldn't have had a very stew-like dish. I told myself that when Julia was cooking in France, she was probably using fresh local produce back when we didn't have massively huge carrot varieties. I cut down her 6 carrots to 3 large ones. Her 6 potatoes to 2 medium, and omitted the turnips and green beans. The turnips were left out because I simply couldn't find them.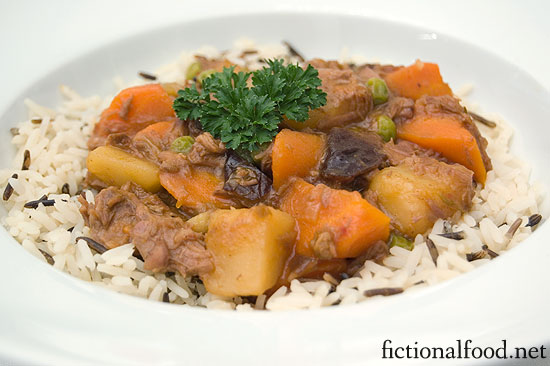 For onions, I used 16 pearl onions. When I first saw her recipe and saw that she called for 16-18 small onions, I was like, "No way. What is this, onion stew?" But the ingredients list says 1″ long onions. I took this to mean pearl onions. I tasted the stew after the first hour in the oven and it was heavenly, so I was pretty scared to add a package of dried plums and drastically change the taste. Instead, I spooned some stew into a small pot and simmered it on the stove with 3 dried plums cut in half. After it cooked for a while, I was satisfied that the taste was still good and so I added a handful of halved dried plums to the whole pot and let it cook for another hour. What came out was quite delicious, though very different than beef stew since the flavor and smell of lamb is very distinct.
Julia said not to use lamb leg, but I have no idea where to get anything but lamb leg, so that's what I used. She said it would get stringy and it did, falling apart as I stirred, but I actually loved this. The meat simply fell apart and made the whole stew thicker, which is just how I like my stew. The reduced amount of veggies was just right for the amount of broth I had and both me and the hubby enjoyed a new and interesting meal.
Don't forget to like Fictional Food on Facebook!





(25 votes, average: 4.04 out of 5)


Loading…
Katniss' Favorite Lamb Stew with Dried Plums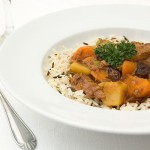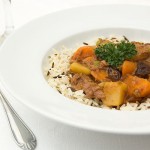 By Greasy Sae
Published: August 15, 2011
When Katniss is in the Capitol, she tells Caesar the best part is the lamb stew.
Ingredients
Instructions
Heat oven to 475 degrees.
Heat oil in a skillet and brown lamb meat. Transfer to dutch oven as pieces cook.
Sprinkle sugar on browned meat. Cook meat for several minutes on medium high heat to caramelize sugar.
Toss meat with flour until well coated. Place pot in oven uncovered for 5 minutes. Toss meat around and cook for another 5 minutes. Reduce oven heat to 350 degrees.
Add 1 1/2 cans of beef broth, tomato pulp, and rosemary. Cover and cook on bottom third of the oven for 1 hour.
Taste and season with salt and pepper as needed. Add carrots, onions, and potatoes and more broth if needed.
Cover and return pot to oven for another hour. After 30 minutes, add dried plums. Once done, taste and season as needed.
On the stovetop, boil peas for 1-2 minutes. Drain and add to stew just before serving.
Serve on wild rice. Eat by the bucketful.