Back when LOST was about to end, I made these sugar cookies that I dubbed "Sweet Cheeks", which was one of many of Sawyer's nicknames for people on the island. I bought a Message in a Cookie Kit from Williams-Sonoma and simply pressed names into the cookies before baking. It's loads of fun and the kit is only $20.
To make these into Hunger Games cookies, I simply stamped in different names and phrases. This sugar cookie is to die for. I sat down at my computer this morning after taking the shots and inhaled five before I realized what I was doing. I suppose it's better than throwing them out a train window though!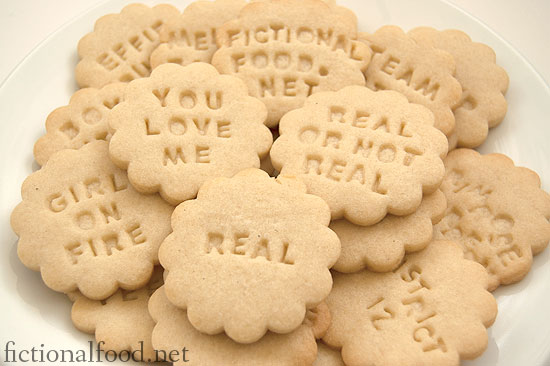 I call these "Sweethearts" instead, named after Haymitch's pet name for Katniss.
Just think of the possibilities here. Guys, if your girlfriend is obsessed with The Hunger Games and you're ready to pop the question, you totally need to propose to her via cookies. Just do three cookies, one with "You'll Marry Me" and another with "Real or Not Real". She'll melt! Make sure you have a "Real" cookie for her to give to you. Be optimistic and don't include a "Not Real" cookie. That would be a real bummer.
You obviously don't need to make cute flower cookies. I just love this cutter, so I used it again. One trick I picked up while doing these was to save on time chilling the dough, just stick your flour in the freezer the day before you make these. That way when you mix the dough, the really cold flour will have your dough all chilled and ready to roll!
I stamped the cookies while they were on the sheet, then baked them for 11 minutes at 350 degrees.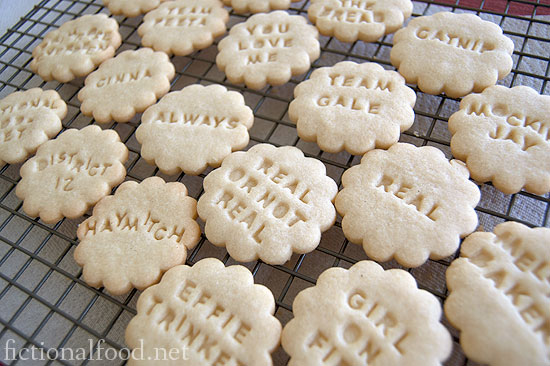 Here they are cooling off! There's no numbers in the kit, so I used a toothpick to make the '2' in District 12. As you can see, I suck at toothpick numbering.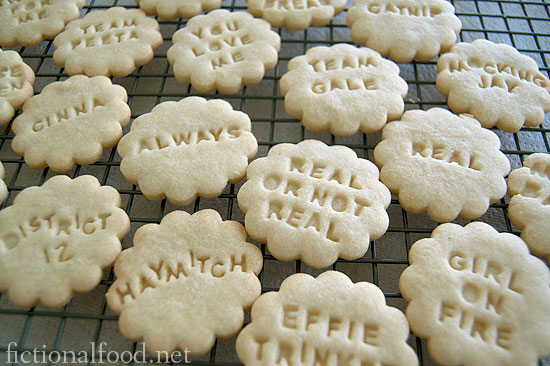 Just another angle here. And here's a gallery of individual cookies!
[nggallery id=1]
Sweethearts – Hunger Games Sugar Cookies
Ingredients
1 cup butter, softened
1 cup sugar
3 cups flour
1 1/2 tsp vanilla extract
1 1/2 tsp baking powder
1/2 tsp salt
1 large egg
Instructions
Cream the butter and sugar together until fluffy.
Add vanilla extract and egg and mix thoroughly.
Mix the flour, baking powder, and salt together. Add to butter mixture slowly.
Lightly flour a piece of parchment paper and roll the dough out. Dip the cookie cutter in flour to keep it from sticking and cut your cookies, using the leftover dough to roll again.
Press names or messages into cookies.
Bake for 10-12 minutes at 350 degrees until done.
Cool on rack and enjoy!
https://www.fictionalfood.net/2011/12/sweethearts-hunger-games-sugar-cookies/