After scrapping psychotic ideas like making Finnick and Annie's wedding cake in two days or setting fire to two loaves of bread that took 24 hours to make, I ended up going with good old cupcakes for my entry in The Hob's Blogiversary baking contest. And while I didn't win, they were so nice to offer up prizes to anyone who entered and so I got an awesome prize in the form of a copy of Katniss' Entertainment Weekly issue, which I stupidly didn't buy when it came out.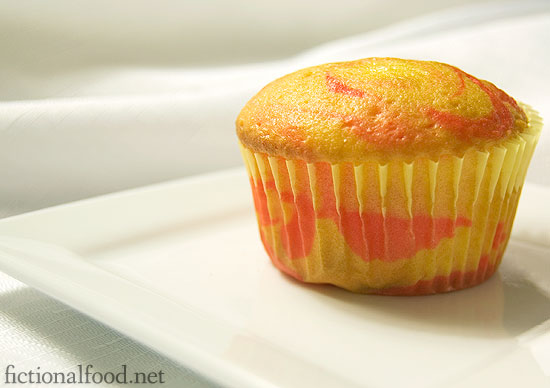 This is an unfrosted cupcake. I wanted to make cupcakes that looked like they were on fire, so I split up the batter for a yellow box cake and colored two bowls of batter: one red and one supposed-to-be-orange-but-looks-pink. Using a spoon, I added batter to the cups, alternating the three colors. I added each color twice. While the flames didn't look as great as I wanted them to, it was still decent.
Here's what they look like inside. It's like an evil fire smile or something. I don't know, you can come up with a better explanation of how this looks like fire.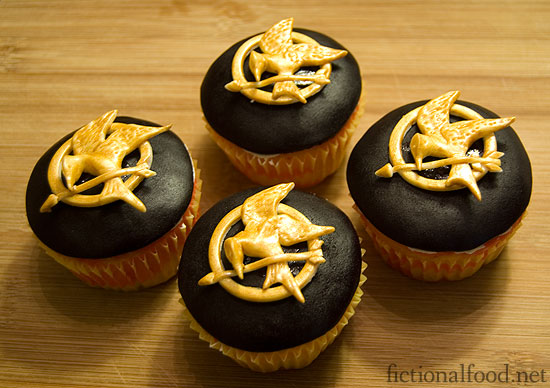 Here's the four Mockingjay cupcakes I made. I had the rest of the unfrosted cupcakes in the fridge and I told the kids they could eat one if they got ready for school really fast. My son got ready like lightning and asked if he could go get his. I didn't even think about it and told him to go ahead. I go into the living room a few minutes later and he's sitting on the couch, the mockingjay pin already swallowed. I couldn't help it and I let out a shriek, which made him jump and start crying, even though I tried to tell him it was just because I didn't want him to go to school with black teeth from the frosting. Poor little guy…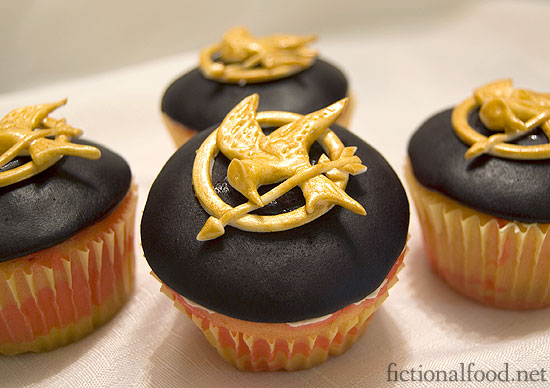 Here's a closer look at it. Watch a video on how to make these.
Special ingredients you'll need for these include Fondarific Black Fondant
 and Edible Gold Glaze (tastes like mint).
The next day, I decided to do two more cupcakes, but only made one of each of them.
Cupcake for The Hunger Games yet again.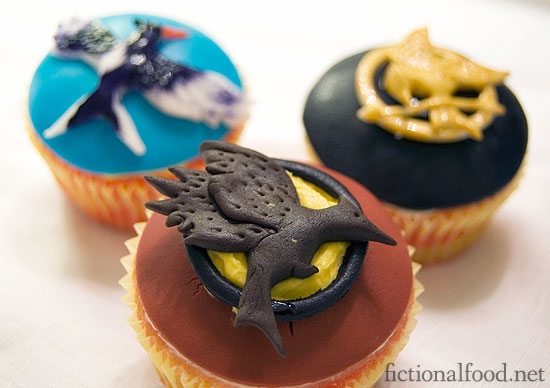 Cupcake for Catching Fire. Don't mind the cracks.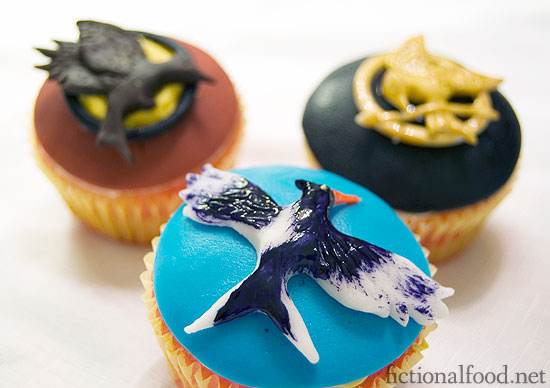 Cupcake for Mockingjay. I kept trying to mix my dark blue fondant with white to get the sky blue but it just wasn't working. Afterwards, I remembered that I should have just tinted white fondant with my gel colors. It's been a while since I've done this, so I totally brainfarted. I painted the mockingjay with the gel coloring.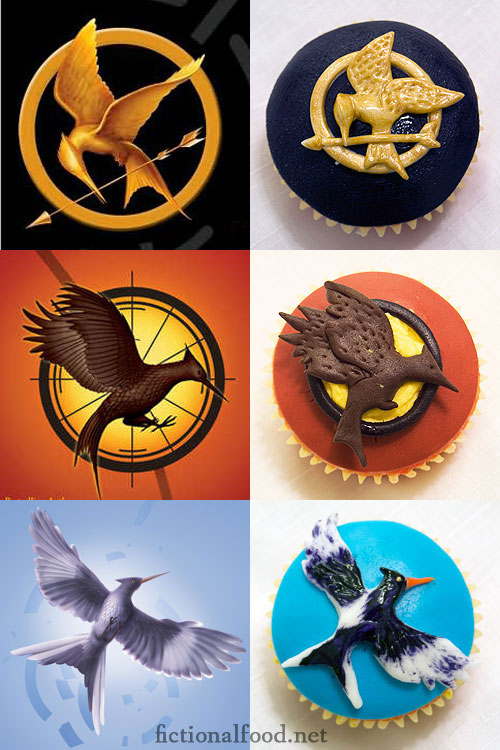 Here's each cupcake next to the bird on the cover of the books, just so you can see! Thanks to The Hob for hosting such a fun contest!